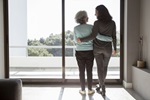 Posted 25 January 2022 by Fallon Health
As we begin a new year, we do so while still dealing with the challenges of the COVID-19 pandemic. According to what you read most on this blog last year, your focus has been on your loved one's mental health as well as your own, and how to support them.
Comments (0)
Read more...
Posted 04 August 2021 by Fallon Health
Compassion fatigue has been described as caregiver burnout, but it's more than that. Fortunately, even though this problem is often misunderstood, there are ways you can fend it off.

Comments (0)
Read more...