Posted 17 November 2021 by Fallon Health
Over the years, the Caregiver Connection blog has had many posts about self-care for caregivers. In recognition of National Family Caregivers Month, we've collected several of them for you here for easy reference.
Comments (0)
Read more...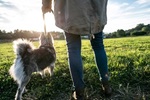 Posted 20 May 2019 by Fallon Health
Caregiving can make you feel like you're on autopilot; you just get done what needs to be done, with no time for yourself. Practicing mindfulness may help you find new ways to appreciate your surroundings—even under difficult circumstances—and provide you with health benefits at the same time.
Comments (0)
Read more...