Ideas for celebrating holidays during a pandemic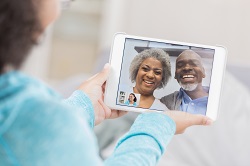 Posted 22 November 2020 by Fallon Health
Many of us have wonderful memories of past holiday celebrations—events that bring family and friends together to share food, drink and traditions. And we tend to imagine the future being similar, evolving and renewing as our families and circumstances change over the years.
This year has brought circumstances that none of us would have imagined in 2019. Our daily lives have changed tremendously as a result of COVID-19. We've learned that we need to stay physically apart from each other to prevent the virus from spreading. And as COVID-19 regains the hold it had earlier in 2020, our gatherings have to be limited. Public health experts recommend curtailing travel and having in-person events that include only the people who dwell in our own households.
Preparing for the holidays when you're a caregiver is already full of challenges. Having to adapt to these limitations to maintain your safety—and that of your loved one and family—may come as a great disappointment and make a difficult situation feel overwhelming.
You may feel sad, lonely or frustrated by not being able to gather with loved ones who aren't part of your household. The person you provide care for may also be upset. It's important to acknowledge those feelings as normal and expected. Leave space for them. But don't dwell on them. Start figuring out how you can create meaningful holiday experiences in spite of them.
Creative ways to connect
We have to be creative this year and find new ways to enjoy time with the people we live with—and connect to those we can't see in person. Here are some ideas to get you started.
Hold on to the traditions that you can realistically continue. If you usually have special foods or a meal for the occasion, prepare them anyway—even if you need to scale back on variety or amounts. If you get dressed up for the holiday, take out those fancy clothes. If you normally send cards and decorate, order some stamps and take the decorations out of storage. Those traditions can feel reassuring and help you find the spirit of the holiday you're celebrating.


Focus on making things better for someone else. Donate to a food pantry. Volunteer to deliver meals to people who need them (if you can stay physically distant enough to stay safe). Call a neighbor or friend who may be struggling.


If you have younger children or grandchildren, think about how to make the holiday more exciting for them. Create a scavenger hunt for them to do at home. Play a silly game with them if they live with you. If they live elsewhere, send them a game to play over video chat—or have them choose one they already have. Reading with them can be fun, too.


Write a letter (with or without a care package), and send it in time for the recipient to open on the holiday.


Plan an activity. There's a lot you can do over video chat applications like Zoom, FaceTime and WhatsApp. Try having a trivia contest, sharing stories about past holidays, playing a game or keeping a cook company, as if you're in the kitchen together.


Look for safe community events. There are drive-through and socially distanced holiday light displays in some areas in November and December.


If you have a loved one who lives in a nursing home or assisted living, ask the staff about setting up a phone call or video chat (they may have extra tablets for that purpose). You could also send a letter, photos or video clip that can be enjoyed over and over, which is helpful if your loved one is feeling lonely or has memory issues.


Set up video chats with different family and friends throughout the day on the holiday you're celebrating. It helps fill your day. And smaller-group or individual sessions give you more time for meaningful conversations.


Remember that an old-fashioned phone call is still a great way to connect with someone.


Take a short video when a special gift is being opened to send to the giver. This can be a fun way to share the fun, surprise and gratitude despite the distance.


Record a message or song to send to a loved one. If you live with the person you provide care for, record them singing or telling a story. Share it and surprise somebody you love. There's always something nice about a surprise.
The key is to change the focus from "I'm not going to have a good holiday" to "How can I make this an extra special time for someone I love?" and "What will help me enjoy this holiday?" If you need more ideas, brainstorm with people you live with or check in with friends to see what they're going to try.
We can lean on each other to make our holidays and special events fun now, while also staying safe for the brighter times ahead.
Laura Roias, LICSW, is Manager of Behavioral Health for the Clinical Integration program at Fallon Health.
How have you changed your holiday celebrations due to COVID-19? What worked well? What would you do differently?
Share your experience in the comments section below.
Get more tips
Subscribe to the Caregiver Connection and get a free guide for caregivers of older adults.



Take the next step
Our customized care programs focus on keeping older adults at home while also supporting you, the caregiver.


Add your comment