Music program brings care partners closer even in a socially distant world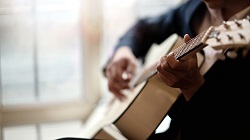 Posted 26 August 2020 by Fallon Health
By Heather Dobbert, M.S.W, LICSW, CDP
Spending time with a loved one who is experiencing the early stages of Alzheimer's disease or another dementia can feel uncomfortable at times. The changes you see in your loved one's behavior may go unacknowledged, but they can affect the way you spend time together.
There are many ways you can adjust activities so you and your loved one can enjoy time together during the early stages of the disease and beyond. One activity that can be especially helpful and rewarding is singing. You can break out a song—whether it's just the two of you together or in a larger group—and reconnect through the power of music.
Singing with Shared Voices
In 2018, I was working in Connecticut and read about a choir for people living with dementia. I mentioned the article to Esther Corcoran, who worked for the local chapter of the Alzheimer's Association. Esther told me about a grant given specifically to help people with early-stage Alzheimer's disease. The early stage can be a difficult time socially—friends sometimes feel awkward about visiting after a diagnosis of dementia.
We applied for and received the grant, which we used to launch Shared Voices, a choir for people with early-stage Alzheimer's and their care partners that is still sponsored by the Connecticut Chapter of the Alzheimer's Association. Shared Voices is a program that allows people to do something together and doesn't require a lot of preparation or commitment. Music therapist Maggie Carchrie leads the sessions. She also plays guitar and drums as she sings.
Originally, I thought we'd be creating a more formal program, with performances a couple of times a year. But I quickly realized that wasn't what people wanted. They wanted a stress-free activity that would allow them to have a pleasant time together.
When you're a caregiver, you can end up spending a lot of time going to appointments, managing medications and doing everyday tasks to help your loved one. Not to mention your everything else you're responsible for. Those regular obligations don't go away when you start becoming a caregiver, and they limit your time and energy. Singing with Shared Voices became a good way for people to take time to appreciate each other's company—while also developing friendships with people going through similar challenges.
We were singing as a group twice every week, until it became clear the COVID-19 pandemic made it too risky.
Singing in cyberspace
There was so much happening in person during our choir sessions in East Hartford, Connecticut. It didn't seem that the positive energy and camaraderie could continue in a virtual setting. But we decided to give it a try.
As it turns out, our Shared Voices sessions work well in cyberspace. When you join the meeting, it looks like any other Zoom call—except each square on the screen has a pair of participants. Maggie, with her guitar in hand, welcomes everyone to the session and introduces new participants.
Everyone chimes in with greetings, although some may gaze away from their computer's camera or look straight into it without seeming to focus.
This is a new format for some of the folks on the call, but they've taken it in stride and participate as wholeheartedly as they did when we sang together in person. Varying internet connections speed can mean that our timing is a little off, but it still has the feel of a big singalong. Some people are a little out of tune and off the main rhythm, but everyone is participating and having fun. This video about the Shared Voices program gives you a good idea of what it's like.
The secret is out
I know we all miss seeing one another in person, but this online version of Shared Voices has one advantage: anyone can participate. Geography is no longer a barrier.
This group is a tremendous help to those participating. The video chat gives them a lifeline, especially now when people are struggling to overcome the difficulties of social isolation. The group provides meaning and structure. We need that in our lives now more than ever. This virus has stripped us of that normalcy, and it's nice to be able to give that back to people, even if in this small way.
For an hour and a half, our singers don't have to think about dementia or COVID, and they don't have to think of themselves as caregivers or care recipients. Music is a cool way to keep your connection with the person who you care about so much. It's truly amazing what a little music can do.
Heather Dobbert is a Memory Specialist and Behavioral Health Case Manager for
Fallon Health
. To learn more about or join Shared Voices, contact Heather at 1-860-819-1528 or heather.dobbert@fallonhealth.org.
Get more tips
Subscribe to the Caregiver Connection and get a free toolkit for caregivers.



Take the next step
Our customized care programs focus on keeping older adults at home while also supporting you, the caregiver.


Add your comment