How to use music to help a loved one with dementia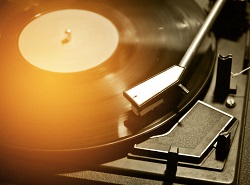 Posted 10 June 2019 by Fallon Health
This is the second of two posts on music and memory. Read the first post about reconnecting through the power of music.
By Jan Maier, M.P.H., RN
Music can be a powerful tool for those taking care of someone with Alzheimer's disease or another dementia. It may even help reduce agitation and anxiety, increase lucidity and enable your loved one to communicate with you more clearly for a short period.
It's free and accessible—and it has the potential to provide you and your loved one so much joy and release from stress. I was a long-distance caregiver for my mother, who had Alzheimer's disease, but we often sang or listened to music together when I visited.
As the disease progressed, I would crawl into bed with her and sing her to sleep. No matter the season, she loved hearing "Silent Night" and "Away in a Manger," over and over. These are some of my most precious memories of our time together.
Supplement activities with music
The connection to music is deeply personal yet universal. If you spend time with someone who has dementia, you may want to see its effects for yourself.
Try weaving music into your loved one's daily activities such as taking a shower, doing housework, folding laundry, cooking, doing dishes, taking a nap or preparing to sleep. Take a wireless speaker with you and add some background music when gardening, picnicking, exercising, etc.—but of course don't use headphones when out for a walk near cars or bicycles.
Music may be able to change or reinforce a mood. Here are some ideas for incorporating music into your loved one's life.
Start with your loved one's favorite music. If you don't know, ask. If your loved one can't tell you, start with popular music from their late teens and 20s, patriotic tunes from that time, or ethnic or religious music. Try different types and eras to find what they enjoy.


Repeat songs. Initially, it may take longer for someone with dementia to respond. Don't give up after playing a song only once, unless there's a negative response. Repeating songs can prolong the pleasure, if they're enjoying it.


Join in. Singing along or playing an instrument often makes it more fun and may enhance the benefits. Singing together regularly at home or in a chorus can compound the joy and potentially increase the longer-term benefits. Professional caregivers may also be interested in playing music on their own cell phones to improve your loved one's mood.


Begin a session by using music or rhythm similar to their mood, and then adjust it in the direction of the desired mood. However, loud and boisterous music may be upsetting, especially to start with. For a calming effect, clap together and gradually slow down the beat. Then add calmer music.


Share memories the music brings up for you and your loved one.


Add movement. We're hardwired to move with music—to tap our hands, toes and fingers or clap and sway to the rhythm. Your loved one may enjoy dancing, even if it's from a seated position, which can be safer if there are mobility or balance issues. Ask your loved one to mimic your movement or mimic theirs. Move a scarf through the air to the beat or hold objects of meaning to him or her.


Play an instrument with or without other music. Shaker eggs or other simple percussion instruments work well.


Combine music with other arts. Sometimes it's fun to draw, paint, color or prepare food while listening to music. Be creative!
Adjusting for specific needs
During the early and moderate stages of dementia, be patient, bold and creative as you add music to your loved one's life. As the disease progresses, isolation tends to increase. Make music a social affair:
Watch a movie version of a favorite musical, or listen to a Broadway soundtrack. Sing along with all your heart—you don't have to be on key!


Invite friends to make music at home. Host a sing-along with friends for fun. Use songbooks, printed lyrics, CDs, videos or DVDs for help with words and tunes, so all can participate. (You can also access this information on the internet using wireless speaker devices such as Amazon Echo, Google Home or Sonos One.) Ham it up and let nostalgia roam free!


Play the "themes from a hat" game. Sing a song that comes to mind when a theme word is chosen randomly.
If your loved one is in the later stages of dementia, you may need to introduce music more gradually and adapt to whatever is happening.
Listen to old favorites for about 15 minutes at a time for a week or two, even if you get little response at first.


Vary the times of day you play music to find the best times.


Keep sessions short, perhaps up to a half hour. Tailor the length of the sessions to how much your loved one enjoys them.


Use gentle touch if it's appropriate to accompany the music and further its calming effect.


Explore your community to find a hospice, faith-based or Threshold choir to visit your loved one and sing.
Creating your own soundtrack
Adding favorite songs to daily activities is likely to be helpful as dementia progresses. Keep a list of the songs and music activities that work best. Make note of whether their effect is to improve mood, energize or calm your loved one.
You can create a playlist of those songs and add similar ones to supplement it. Organize it by the mood you're hoping to create and by type of activity you're doing together. Sing the songs and/or play them using whatever method works for you:
iPod or mobile phone


Record player


CD or tape player


Wireless speakers


Music-streaming services like Spotify or Pandora, which also have playlists available that may suit your needs
Many caregivers find it easiest to ask a smart speaker to play certain songs, artists or genres. If your loved one is in a nursing home or other facility, ask if there is help available for creating and using a customized playlist.
Whatever varieties of music and rhythm you try, I encourage you to take advantage of the natural bridge that music may offer to help you reach your loved one. However brief it may be, nothing is as powerful as the joy of reconnection.
Jan Maier, M.P.H., RN, former Senior Research Analyst at the Research Triangle Institute, is a choral conductor, nurse, workshop leader and musician/performer. She specializes in giving workshops for caregivers and health care providers on how to incorporate music into daily life and bring back more joy.
Get more tips
Subscribe to the Caregiver Connection and get a free toolkit for caregivers.



Take the next step
Our customized care programs focus on keeping older adults at home while also supporting you, the caregiver.


Add your comment