5 ways to make long-distance caregiving easier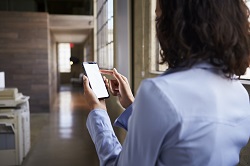 Posted 04 February 2019 by Fallon Health
You want to be there for your loved one. But sometimes the physical distance between you can seem like an additional peak to scale on an already-steep mountain.
Long-distance caregiving can mean "out of state" or "across the country"—but not always. Even being an hour away can make it difficult to help in person on a regular basis.
Whether you are getting started as a new (or soon-to-be) caregiver or want to rethink your current caregiving strategy, here are 5 steps to help you make long-distance caregiving more manageable for you, while providing the care your loved one needs.
1. Discuss your loved one's wishes
There is a difference between knowing your loved one's health issues and understanding his or her care wishes.
Talking about it can help make expectations clear. During this initial discussion:
Help your loved one make a wish list. You may not be able to accommodate all of these requests, but having them in mind will help you make the best possible decisions about your loved one's health.


Define goals for your role as caregiver. Ask your loved one directly what he or she would like from you as a caregiver. Ask what is not being done now that you can help provide.

Also discuss your loved one's preferences for making decisions. Ask your loved one what type of decisions he or she is comfortable having you make on his or her behalf and which he or she wants to have final say on.


Discuss long-range wishes. For older adults with serious health conditions, conversations about what to do in the event of a health emergency can be difficult but will help ensure they have a say in their care.

It's important to plan in advance for the possibility that your loved one may not be able to make his or her own decisions. Take the necessary legal steps to protect your loved one, as well as family members and financial assets involved in the situation.


Be prepared to encounter resistance. It's important to think about what to do if your loved one doesn't want your plans or help.
2. Call your loved one. Often.
Keeping in touch is the most important thing you can do as a long-distance caregiver. Be sure to balance the calls between talking about your loved one's health and having quality time to catch up and have fun.
Set up Skype, FaceTime, WhatsApp, Viber or another app for a video chat. Sometimes seeing your loved one may help identify any issues not expressed over the phone.
3. Communicate with medical professionals
If you're coordinating medical care for your loved one, you'll need to ask him or her to fill out a Health Insurance Portability and Accountability Act (HIPAA) release form. Without a HIPAA release, health care providers can't share medical information with you.
Developing trust with your loved one's team of health care providers is essential. Talk with your loved one's primary care provider or care team early on to discuss a plan of care. If a HIPAA release form has been completed, discuss what ways you can access your loved one's medical information remotely with the care team.
When your loved one has an initial health assessment, be there to gather as much information and resources as you can. If you can't be there in person, arrange to speak with those who will perform the assessment—both beforehand to field any questions and afterward to follow-up and clarify any questions you, your loved one or the assessor may have.
This appointment can also give you a point (or points) of contact to discuss your loved one's health issues with regularly. Also be sure to:
Set up regular calls with health care providers to check in, so you're informed of any health status changes


Spend time educating yourself about your loved one's medical history


Create a medication list to share with the care team


Ask your loved one's doctors and pharmacists questions about medical condition(s) and prescription medications


Ask your loved one's care team if there is anything else you can do to help from a distance
4. Build a close-by network of contacts
Does your loved one have neighbors or local relatives you both trust? If they are willing, use them as resources.
Having someone living in the area to swing by and say hi can provide your loved one with additional social opportunities and allow these close contacts to communicate with you about any changes in health, no matter how minor, to identify potential problems before they become major health challenges.
Before you approach any of these proximity contacts, make sure whatever task you plan to ask them about is also something your loved one is comfortable with.
5. Visit. And when you do … be present.
When a day comes that you're in the same place as your loved one, it can be tempting to spend the entire time planning, making appointments and checking your phone to make sure your work and home life stay under control.
Try to eliminate as many of those distractions as possible, and plan something the two of you can enjoy doing together. Watch a favorite movie, play cards, go through old pictures. If your loved one's physical or cognitive condition has changed, you may need to adapt the activities you do together.
Of course, there are business needs to tend to sometimes, including helping your loved one pay a bill, take care of small tasks around the house or run errands. Planning in advance can help your loved one stay ahead of health challenges. Talk to your loved one and, if possible, anyone helping locally with providing care, to identify any tasks or errands you can do prior to or after your visit.
When you don't have quantity of time, make sure to spend quality of time.
As a caregiver, you put in countless hours striving to improve your loved one's life. At times, your role will be tough. Both of you deserve to reap the rewards of this relationship. There is no greater benefit than the two of you making more cherished memories along the way.
Those memories will help you overcome many of the stressful hurdles you will encounter.
Michelle Malkoski is Director of Quality and Risk for Fallon Health's Summit ElderCare program.
Get more tips
Subscribe to the Caregiver Connection and get a free toolkit for caregivers.



Take the next step
Our customized care programs focus on keeping older adults at home while also supporting you, the caregiver.


Add your comment