Making a smooth transition to rehab and getting the most out of it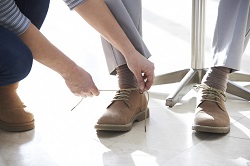 Posted 27 March 2018 by Fallon Health
In an ideal world, most people would choose to recuperate from an accident, hospitalization or illness in the comfort of their own homes. But the reality is that many will need inpatient rehabilitation care, especially older adults.
That can be a difficult transition for the person being admitted, as well as for family and friends involved in care. Entering rehab may bring up concerns about the future and what will happen next, and it's important to talk about those questions.
But it's also important to take practical steps to ease your loved one's transition into this new environment. As a caregiver, you can play a role in helping ensure your loved one gets appropriate rehabilitative care, whether in a nursing home or a dedicated rehabilitation facility.
Find a main contact person at the facility
One of the first things you should do at the time of admission—or soon after—is ask to communicate with the person in charge.
That person is usually a unit manager or charge nurse, but it can differ depending on the shift. If your loved one is admitted during a 3 to 11 p.m. shift, for example, the charge nurse may handle the admission. You'll want to close the loop the next day with the manager on the day shift and make sure you know who your main contact person is at the facility.
You should also identify one person as your family's main contact person, with the goal of avoiding confusion.
Provide information to smooth the transition
It's important to acknowledge the fact that there is a learning curve for all parties—the staff, the family and the person being admitted. The staff at a facility doesn't know your loved one, except on paper, but they can benefit from having some background information—which you may be able to provide or encourage your loved one to offer. This information makes for a smoother transition from home or hospital to rehab.
Keep in mind that you're trying to make sure there are no miscommunications, so be direct. You can help the staff at the facility get to know your loved one by providing information such as:
Usual bedtime.


Preferred time to get up.


How and when they take their medications.


What makes them anxious.


What will motivate them. Knowing how to motivate the person is important for rehabilitation staff, who will want to encourage the highest level of performance.


Best way to communicate with them. Let the staff know about communication or language barriers, and how you've been able to work around or overcome them. For example, tell the staff if your loved one has a hearing impairment—and whether they will write on a white board or use hearing aids.
More suggestions for when your loved one is admitted
Some of the tasks that seem easy enough may require an approach different from the one you may be inclined to take. For example, it's a quick job to toss some clothes in a suitcase for your loved one to wear while at the facility. But are you bringing the right clothing for the setting? Is it clothing they're used to wearing at home? Is that clothing practical for them currently?
If your loved one is having issues with dexterity, for instance, buttons may be difficult or impossible to manage. If they have a hip replacement, pull-up sweatpants are easier. If they're doing rehabilitation, they may need sneakers and loose, comfortable clothing. Ask the staff for recommendations—they have the experience to tell you what will work best.
Personal belongings are another example. Different facilities have different policies, but here are three tips that are relevant regardless of the particular facility:
Make sure you label all clothes and other personal belongings.


Write down what your loved one brought to the facility.


Don't bring in anything that could be lost or stolen, including cash. Your loved one won't need money while in the facility.
Questions caregivers should ask
When your loved one is first admitted, a lot happens at once. That can be overwhelming. But there are a number of issues you—and your loved one, if possible—should address with staff as soon as possible after admission:
What is the discharge plan? Don't wait to ask this question. The day of admission is the day to begin planning for discharge.


What is the rehabilitation goal?


Be clear about your expectations, and lay the groundwork for what you want from the care team. Clearly identify the outcomes you and your loved one are looking for.



Do you want to know about every prescription change, every dosage adjustment?


If there's an infection, do you want a family member to be called? Or do you want to hear about it at a regularly scheduled meeting?



Ask about next steps when rehab goals are reached. Someone at the rehab facility may ask to do a home safety evaluation to ensure that discharge is as successful as possible. For example, if your loved one has a knee replacement and goes to a rehabilitation facility, there are questions about how the transition back home will happen.



What is the layout of the home your loved one will return to? Are there stairs?


What family supports will be needed and what will be available?


What medical equipment does your loved one have at home?



How often will physical and/or occupational therapy be provided?


How often will the physician evaluate your loved one? In Massachusetts, patients in a skilled nursing facility must be seen by a medical doctor twice a week or by a medical doctor and a nurse practitioner.
Influence of caregivers
Family members—and others close to the person in need of care—are often a key part of how the person transitions to rehab. As part of your loved one's caregiving team, you have the opportunity to have a positive impact on his or her experience.
Lisa DeWitt is Senior Director of Operations for Fallon Health's Summit ElderCare program.
Get more tips
Subscribe to the Caregiver Connection and get a free guide for caregivers.



Take the next step
Our customized care programs focus on keeping older adults at home while also supporting you, the caregiver.


Add your comment