Use these essential documents to formalize caregiving arrangements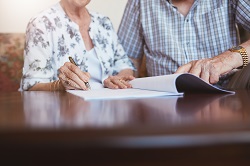 Posted 25 June 2018 by Fallon Health
By Frederick M. Misilo Jr., Esq.
When someone you care about needs extra help, providing it may seem like a simple thing to do. It's easy enough to take on a few tasks your spouse, parent or other loved one is having difficulty getting done.
From a legal perspective, caregivers can provide that type of informal assistance—reviewing the mail, paying a few bills or arranging for home maintenance and repairs. It's very common to take on these tasks, especially when you're just becoming a caregiver.
It's also very common to assume that an informal arrangement will be enough. No one wants to imagine being mentally or physically unable to make health care and financial decisions independently. But when it comes to dealing with government agencies, banks and insurance companies, you need to plan for that possibility. A few essential legal documents can make a dramatic difference for you, for your loved one and for the whole family.
How you can help protect your loved one
Although this can be a difficult topic to discuss, I recommend considering the following steps to protect your loved one, as well as family members and financial assets involved in the situation.
What to do if your loved one isn't competent and hasn't planned
If your loved one is no longer able to make decisions independently—and doesn't have durable power of attorney and health care proxy documentation in place—it becomes more difficult. In that situation, you have to petition in probate court for:
Guardianship to manage health care and personal issues
Conservatorship to get control over the property and assets
To do this, you need clinical documentation from a health care provider to verify that the person is incompetent to manage their health and financial affairs. You also need to show the court that you're qualified to take on these responsibilities on the person's behalf.
If a guardianship is set up, the court requires the guardian to provide a care plan report within 60 days of being appointed and annually thereafter.
As the conservator, you must do an initial inventory of assets within 90 days and provide an annual accounting of all financial transactions. The court may also require you to provide a financial plan annually. If you resign your position as conservator, or when your loved one dies, you then need to provide a final account to the court.
Don't neglect your own planning
You have a lot on your mind when you're providing care for someone else and helping him or her plan for the future, but I strongly encourage you to do your own planning. If you've already made plans, I recommend reviewing them every three to five years and every two to three years after age 50.
Sometimes couples with young children name their own parents or siblings to serve as agents for their health care proxy and durable power of attorney—and never update it in the decades that follow. Too often a spouse passes away and, when the surviving spouse begins to fail, the family discovers that the power of attorney is an older relative or friend who has died or is living but not competent.
You can avoid these situations by creating and regularly reviewing these documents. I believe everyone should have them, because, to put it simply, you never know what's going to happen—and it's always better to be as prepared as you can be.
Frederick M. Misilo Jr. is Chair of the Trust and Estate Department at Fletcher Tilton, a law firm in Worcester, Massachusetts. His areas of expertise include elder law, special needs planning, estate planning, estate and trust administration, guardianship and adult service advocacy.
Get more tips
Subscribe to the Caregiver Connection and get a free guide for caregivers.



Take the next step
Our customized care programs focus on keeping older adults at home while also supporting you, the caregiver.


Add your comment