How to choose a nursing home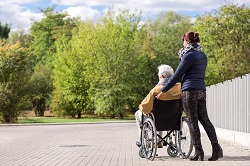 Posted 09 July 2018 by Fallon Health
When her husband was diagnosed with Alzheimer's disease, Caroline (not her real name) promised to care for him at home as his symptoms progressed. She managed to keep that promise for several years, adding professional caregiving help when he required more care than she could provide alone. But as his needs intensified even more, her health began to fail.
In spite of the guilt she felt, Caroline realized—through long conversations with their children, her closest friends, her husband's health care providers and her own doctors—that it was time for nursing home care. She knew there were several nearby, but, like most people, she didn't know what to look for.
Moving a family member or friend to a nursing home can be a difficult decision, on so many levels. You may feel guilty or unsuccessful for being unable to fulfill a commitment you made to keep your loved one at home. You may worry about having others taking care of him or her in an institutional setting. If your loved one lived with you, it can be hard to imagine being apart.
Or you may have different types of feelings. You might be relieved to have a difficult situation change, for example, or feel overwhelmed by the process of finding a nursing home.
3 issues to consider when making a choice
Regardless of your feelings, it can help to focus on the practical issues at hand. You may have some time to plan, but often the decision to move a loved one to a nursing home is made during a time of crisis, without much time to weigh options.
Here are three important issues to consider while you're choosing a nursing home:
How accessible is the location, for you and others who will be visiting? How long would it take for you to get there? Is it close enough that you and other friends and relatives can visit as often as you want?



Ask for references. You can ask nursing home administrators for references. But it's even more important to do some asking around on your own. Find out what the facility is like from a friend, or a friend of a friend, who doesn't work there.



Consider the financial implications. What are the costs? You can look to attorneys or nursing home staff (the social worker can be a good person to start with) for help understanding the financial implications of admitting your loved one to a nursing facility. Ask what happens if your loved one starts out on private pay but eventually needs to rely on Medicaid coverage. Not all nursing homes are certified by Medicaid.
Look at online state and federal ratings
There are ratings online that give you a snapshot of the nursing homes you're considering.
The federal government inspects and rates every nursing home that is certified by Medicare and Medicaid. You can review the ratings and see detailed information on quality of care and staffing on Nursing Home Compare.
In Massachusetts, the Department of Public Health (DPH) evaluates nursing homes every nine to 15 months to make sure they comply with federal care standards such as staffing ratios, care quality and cleanliness. The ratings are available online.
While the information from both the state and federal government is valuable, it's possible that the ratings are lower or higher due to a specific situation on the day the inspectors visited.
I encourage you to use the ratings as just one factor in your own evaluation of the facilities you decide to check out. The DPH evaluations, for example, provide a way for a facility's management to assess and then address weaknesses. So if you notice a lower rating in a specific area, you may want to ask the nursing home how they have addressed those weaknesses. Many facilities will put significant effort into making corrections.
What to look for when you visit a nursing home
When you're deciding on a nursing home, you really need a first-hand look. Don't rely solely on references or inspectors' ratings. And don't make an appointment the first time you visit. Just go in!
The issue with making an appointment is that facilities that aren't up to appropriate standards have a chance to tidy up. Keep in mind that it's not always the facility that looks the most beautiful or has the newest furniture that provides the best care.
Observe the residents for signs of how they're being cared for:
Are they well-kept?


Do they seem as happy as they can be?


Are there activities going on? What types are available?


Are patients or residents encouraged to join in?


How do the CNAs (certified nursing assistants) and RNs (registered nurses) interact with the patients/residents?


Do staff members seem happy? Pleasant? Patient? How do they speak to the residents?


How is the cleanliness of the facility? When you're walking through, notice if there's an odor.
That surprise visit makes a difference that works both ways—you may see things that don't sit well with you, but you may also learn things that build your confidence in the place. Then you can make an official, scheduled visit to the facility.
Other questions to ask
While you're on your scheduled visit, take advantage of the opportunity to ask questions of the other people you meet, in addition to the person giving you the tour:
Does the food service program include accommodations for special diets and cultural preferences? Do the residents choose when they eat?


What is the ratio of staff to residents?


How high is staff turnover? Are staff assigned to care for specific residents or does that vary from day to day?


What types of activities are offered? Is there a choice of activity? How much variety is there?


Is transportation available for medical and social purposes?


When was the last time the residents went outside? Are there regular opportunities to be outdoors?


Ask residents and their visitors what they like/dislike about the nursing home.
Specialized care for people with dementia
If your loved one has Alzheimer's disease, another dementia or behavioral issues, you may want to find a facility with specialty care.
Ask about the ratio of nursing staff to patients. There are usually more staff members for patients and residents with Alzheimer's and behavioral health issues. (Also ask about the ratio of CNAs to patients.)


Find out if there is a dedicated floor or wing for patients with similar issues. Staff members in these units have gone through extensive Alzheimer's and dementia care training. The training enables them to better meet the needs of residents with cognitive impairment.


Does the facility have a secure unit? Otherwise, residents may wander outside the facility alone.


There should be a high level of activity so residents are occupied. For example, doors may be decorated with photos and other items the resident will recognize. That may be a photo of someone from 20 years ago or a window box with treasured, recognized items.
If some beds are licensed for skilled nursing, your loved one may be able to get required skilled nursing services without leaving the Alzheimer's/dementia floor. Taking Alzheimer's patients out of their normal environment can be very, very difficult for them.
Signs of good care
Once your loved one settles in to a new living arrangement, you can look for certain details that signify they're being taken care of well in the facility. Notice whether these things are happening:
Hearing aids are in.


Glasses are on or within easy reach.


Dentures are in during the day. Make sure they're removed and cleaned properly at night.


Clothes are appropriate for the environment and season.


Showers are given regularly. Keep track of which day the shower is done.


There is an adequate supply of adult briefs, prompt changing and an effort to help your loved one get on a schedule to avoid accidents.


Your loved one is participating in his or her own care and making decisions to the extent possible.


Preferences are noticed and respected whenever possible.
An advocate to help
If you have concerns about your loved one's care, talk with the nursing staff and the facility administrator. Problems can usually be addressed and are often the result of miscommunication.
But sometimes it can be helpful for an outside party to help you advocate for your loved one. Each nursing facility has long-term care ombudsmen who advocate for residents of nursing homes and other long-term care facilities. They work with nursing home residents and their families, as well as nursing home staff and administrators, to resolve issues that come up. Your local nursing home ombudsman can also be a source of information as you're looking for a nursing home. You can find an ombudsman in these Massachusetts towns.
Remember why you made the decision
While it can be easy to imagine that things would have turned around for your loved one, if only you'd kept him or her at home, don't forget the difficulty of the circumstances that led to your decision.
While your role may shift, you will continue to be a caregiver and remain an important part of your loved one's life. You made a decision to make sure your loved one gets the right care for this part of life.
Lisa DeWitt, RN, is Senior Director of Operations for Fallon Health's Summit ElderCare program.
Get more tips
Subscribe to the Caregiver Connection and get a free guide for caregivers.


Take the next step
Our customized care programs focus on keeping older adults at home while also supporting you, the caregiver.


Add your comment