Benefits of a daily plan for someone with dementia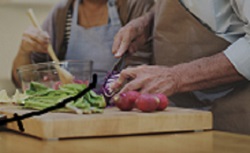 Posted 16 January 2018 by Fallon Health
By Nicole McGurin
People lead busy lives these days. Nearly anyone you talk to describes extra time as being in short supply.
But that's for an average adult. If you're among the 15 million Americans who are helping care for a person with Alzheimer's disease or other dementia, free time may be entirely nonexistent. If you've got the necessary medical appointments, prescription drug regimens and basic care tasks under control, you're probably trying to find meaningful and enjoyable activities to keep your loved one occupied.
That is a major challenge. The task of organizing the day can be very overwhelming for caregivers, especially in the face of other growing responsibilities. That's why creating a daily plan is so important!
Investing some time to create a daily plan can reduce stress and improve quality of life for people with Alzheimer's disease, as well as their family caregivers. A routine with pleasant activities—that can be completed successfully—may enhance self-esteem, promote independence and reduce agitation for your loved one.
Things to consider
As you begin making a daily plan, consider the following with your loved one in mind:
Strengths, abilities and interests. What household chores is your loved one still able to do? What hobbies have they always enjoyed?


Former habits and routines. What time of day did they like to take a shower? What time have they always liked to go to bed and get up? Did they exercise regularly? Enjoy going out for errands?


Best time of day for calmer and clearer functioning.


Times of day with too little or too much going on. Are there certain times when you need to get things done? Times when your loved one seems bored?


Recent successful activities, either planned or spontaneous. What outings and experiences does your loved one enjoy now? Are there activities that your loved one is able to initiate independently?
What to include
Your plan doesn't need to account for every minute of the day. I recommend allowing for rest and variety. It will likely take some trial and error to see which activities are successful and which type of routine works best. As the disease progresses, your loved one's needs will change, and the daily plan will need to be adapted.
Your daily plan will likely include:
Household chores


Mealtimes


Personal care


Hobbies


Socialization and/or outings


Exercise
It is a good idea to incorporate regular times for waking up, going to bed and taking naps. The structure may improve sleep habits. It can also reduce sundowning, which may cause your loved one to feel agitated, confused and anxious during late afternoon or early evening.
Keys to developing an effective daily plan
Each caregiving situation is unique, but as you create your daily plan, keep in mind the common elements of an effective one:
Write it down. You can find a sample daily plan on the Alzheimer's Association's website.


Ask others to be part of your loved one's day. The Care Team Calendar is a free, personalized online tool to organize family and friends who want to be involved. Try these tips for encouraging others to become involved.


Make time for activities that you enjoy and promote your own emotional and physical well-being. It's important for you to avoid caregiver burnout.


Explore opportunities that get you and your loved one out of the house and interacting with others. Memory Cafes are a wonderful option for a supportive environment that welcomes both you and your loved one.


Be flexible. What works may vary from day-to-day. It's a good idea to have a list of alternate activities to make it easier for you to redirect your loved one when necessary.
Getting help with a daily plan
Writing a daily plan for a loved one with Alzheimer's disease is not an easy task. Brainstorming with family and friends who know the person can be helpful. You can also find resources on the Alzheimer's Association website. The Association offers individualized and expert assistance through a 24/7 Helpline (1-800-272-3900).
Nicole McGurin is Director of Family Services for the Alzheimer's Association Massachusetts/New Hampshire Chapter. She can be reached at nmcgurin@alz.org.
Get more tips about caregiving!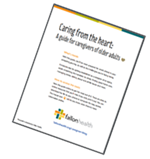 Fallon Health has prepared a downloadable guide with practical information to help you with the challenges of caregiving.
Get the free guide when you subscribe to the Caregiver Connection ►
Add your comment