How to adjust activities for your loved one's physical or cognitive changes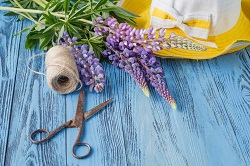 Posted 23 April 2018 by Fallon Health
When someone in your life develops challenges due to illness or age, the way you spend time together can change significantly. You may find yourself spending more and more time shopping, cleaning, driving, coordinating medical care or doing other tasks.
That leaves less time for sharing in enjoyable and meaningful activities. And many of the activities you used to do together may be harder now, regardless of whether your loved one is experiencing physical or cognitive difficulties (problems with understanding or memory). They may even feel impossible.
Modifying activities you enjoy together
Although you and your loved one both may find it difficult to accept, you may have to let go of some activities you used to do together. On the other hand, you can modify some things to enable your loved one to continue to share them with you.
For example, there are steps you can take to make going out to dinner less overwhelming for someone with dementia, vision or hearing impairment, or another physical or cognitive condition:
Call ahead and ask the manager if accommodations can be made.


Explain what accommodations would help—such as a table located in a quiet area or close to a restroom.


Check out the Purple Table Reservations program. Participating restaurants have staff trained to accommodate people with physical and cognitive limitations, and to help make your experience more enjoyable.
A short trip to the beach is another example. If your loved one has limited mobility, walks on the beach may feel like a thing of the past. But some beaches have a boardwalk near the water, which avoids unevenness that could contribute to a fall and makes a wheelchair or walker easier to maneuver.
In Massachusetts, select state parks have accessible coastal and freshwater beaches. A few of these parks also offer beach wheelchairs. One type of wheelchair available is designed to cross the beach and be parked for sunbathing—the other can get through sand and float in the water.
Helping your loved one engage in activity
Sometimes a particular activity can't be modified in a way that your loved one can continue to enjoy it, even with support. But it may be possible to keep some aspect of the activity in your loved one's life.
Look at what's important to your loved one and talk about it together. Then, if it's something that needs to be adapted, think about how you can focus on a small piece of it.
Find a way to make that piece part of a ritual for your loved one or make it into something you can do collaboratively. Here are some examples:
Someone who was into outdoor photography may like taking pictures of houseplants or cut flowers inside—and then sharing them.


If your loved one loved to go birding in the early hours of the day, but can no longer get outside easily, a window with a view of a birdfeeder in winter and a flowering garden in the spring could be a solution.


Someone who enjoyed making big meals for company may be able help with a dinner menu or preparation of an easy dish or dessert.
I worked with one man who had managed a large janitorial staff. When he could no longer work, he missed feeling in control. Suddenly most of the decisions that affected his day were made by others.
His wife looked for ways he could help around the house despite his limitations. She asked him to make decisions on what they needed to buy, and asked him to write the grocery list. Having control of those simple chores tapped into his managerial skills and helped him feel he was still needed and important.
Finding ways to connect
Even in cases of advanced dementia or other cognitive issues, it's important to look for ways to help your loved one connect, with you and with others.
I remember a woman with Alzheimer's disease who loved to tell stories about her life and experiences. When her husband was around, he gently cued her if she started going off topic.
When she started going to an adult day health center, she had a new audience, but her husband wasn't there to help her remember. She got frustrated when she forgot parts of the story, got stuck or was unable to finish. What was usually a source of happiness became stressful.
Her husband realized what was happening and stepped in behind the scenes. He told the staff the details of the stories, so they could cue her in his place. Then if she got stuck in the middle of a story, they reminded her of details until she could continue and successfully finish.
Using the resources you have
For someone with advanced memory issues, a memory box can help trigger positive thoughts and memories. The objects inside can also be used as conversation starters for you or your loved one.
Memory Cafés offer opportunities for people with memory issues and their caregivers to enjoy time together with others who are having similar experiences. You'll meet people who understand what you and your loved one are both going through. Reach out to participants to ask for suggestions for adapting activities or for finding new ones.
But remember, the best resource for ideas is your loved one. Basing activities, whether modified or not, on what he or she has always liked to do, is your best bet for sharing time that is meaningful for both of you.
Has the way you spend time with your loved one changed because of physical or cognitive difficulties? How have you modified activities? Share your experience and suggestions in the comments section below.
Get more tips
Subscribe to the Caregiver Connection and get a free guide for caregivers.



Take the next step
Our customized care programs focus on keeping older adults at home while also supporting you, the caregiver.


Add your comment