Becoming a caregiver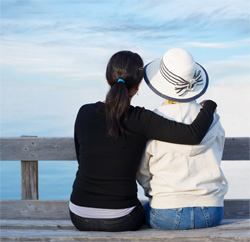 Posted 02 May 2017 by Fallon Health
It happens gradually. You pick up a few groceries for your mom now and then, and throw in a load of laundry when you drop them off. Or you take over the outdoor chores your dad always did. Or maybe you start driving your wife to appointments, so she gets to and from her destination safely.
Caregiving tasks add up
You add these tasks to your schedule easily at first. It's not work. You want to help. This is someone you care about, and it doesn't feel like much to do for them.
Yet those initial, smaller tasks add up over time. Those few little things you did to help out in the early days have grown to a mountain of tasks that you struggle to finish. And at some point along the way, it dawns on you … you're not only the son or daughter, husband or wife, cousin or niece, neighbor or friend. You've become a caregiver.
Calling yourself a caregiver
I've met many caregivers who are hesitant to use that word to describe themselves. They don't really think of themselves as caregivers—until they feel overwhelmed to the point that they're depressed and don't know how they're going to continue.
But caregiving begins with that first trip to the grocery store, that first autumn your dad can't rake, that first time you have to drive your loved one.
And calling yourself a caregiver—even if only when you're with certain friends or only in your thoughts—is important. It doesn't mean you view the person you're caring for as a burden. It's a small way to remind yourself that you're not alone and that you don't have to deal with every aspect of the situation on your own.
Support for caregivers
Whether you've been a caregiver for years or you're just beginning to recognize signs of decline in someone you care about—or somewhere in between—it's important to have a support system. Others who have gone through similar experiences can support and encourage you. Their help is invaluable as you learn how to manage stress, plan for care, balance work with caregiving, and make decisions that affect your life and that of the person you care for.
There are other resources, formal and informal, that can help—your local council on aging, your friends and relatives, respite care, caregiver support groups, and more. Keep your eyes—and your heart—open to finding and receiving the support that will help you manage caregiving and nourish yourself as well.
Resources for caregivers
Get more tips
Subscribe to the Caregiver Connection and get a free guide for caregivers.



Take the next step
Our customized care programs focus on keeping older adults at home while also supporting you, the caregiver.


Add your comment