Avoid caregiver burnout with 4 ways to take care of yourself
Posted 01 June 2017 by Fallon Health
Caregiving makes you busy. It can feel like you don't have time to do anything for yourself. No time to prepare a healthy meal for yourself, to meditate, to go for a run or a walk. But that's why you need it most.
Making time for yourself is a necessary part of being a caregiver. You need to get away, even if only for a quick break. Time to rejuvenate yourself helps you stay healthy and happy enough to continue your work as a caregiver. It's like the flight attendant who tells the passengers what to do in case air pressure on the plane drops: put the oxygen mask on yourself first, so you will then be able to help the person by your side.
There are some basic things you can do to ease the stress you feel, and maybe even prevent some of it:
Communicate. Whenever possible, talk to other family members, friends and coworkers who have taken on the caregiver role. If you don't know anyone, join a support group in your community or online.


Accept help. Friends and family may have told you to call if you need help. Have you called? If you're like most caregivers, the answer is no. Don't wait any longer. Call them. Try these tips for making it easier to ask for help.


Socialize. Even if your friends aren't having similar experiences with caregiving right now, it's important for you to maintain your connection to them. Let yourself enjoy your time with them.


Find a therapist. A therapist can help you manage the feelings that go along with seeing a loved one decline. And coach you on the hard task of asking for help.
The job you're doing, whether you just started or you've been providing care for years, is a tough one. Keep yourself strong by leaning on others for support when you need to. And even when you think you don't.


Get more tips about caregiving!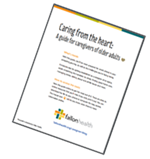 Fallon Health has prepared a downloadable guide with practical information to help you with the challenges of caregiving.
Get the free guide when you subscribe to the Caregiver Connection ►
Add your comment