How to involve family and friends in helping with caregiving
Posted 26 June 2017 by Fallon Health
Being a caregiver can be rewarding, but it's a role that comes with responsibilities that can weigh heavily on you. As your loved one's needs increase, demands on you also increase. It can feel impossible to keep up. You have no time to yourself. No time to think. No time to zone out and relax. No time to visit your own doctor or even to get your hair cut.
It's obvious that you need help, right? You might be surprised.
Different reactions to caregiving needs
To those on the outside looking in, the view of your situation can seem different. Even if you do ask for help now and then, it may appear that you're handling the situation so well that your family and friends think you don't really need them. The family member who is the main caregiver is often seen as "the strong one" who can manage it alone.
When hearing a comment like that, some caregivers may feel resentful. In praising your competence, are other family members giving themselves permission to stay more removed from the situation?
It's certainly possible. It's also possible that they're uncomfortable with certain caregiving tasks and feel guilty about feeling that way. Or they have difficulty with their own emotions about your loved one's need for care and choose to avoid the situation.
Or they may fear that volunteering for a small task will force them into a longer commitment than they can manage, either because of their other responsibilities or because of the emotional impact of seeing your loved one's difficulties. When a loved one has serious health issues, relationship issues can also rise to the surface.
3 tips for asking for help
There are ways to get around these issues. Think about how you have asked for help in the past (if you have) and consider different approaches to making requests—so you get the support you need to avoid caregiver burnout and depression. It's important for family and friends to be able to assist in a way that helps you and your loved one, while also being comfortable for them.
Think small. Sure, a weekend away would be great. But having someone else take over caregiving duties, even for an hour or two, can provide a rejuvenating break from worrying about your loved one's safety and well-being.


Be specific. Ask for help with a specific task and define the amount of time it would take. That makes it easier for you to ask—and easier for others to accept or counter offer.


Match the right task with the right person.


A neighbor can garden with your loved one while you make dinner.


Your loved one's sibling or friend can play cards with your loved one for an hour so you can keep your own medical appointment or get an important health screening.


A teenaged niece or nephew can mow the lawn, so you don't have to leave your loved one alone while you do it yourself.


If you have kids getting off the bus when your loved one is dropped off after a day program, they can have a brief visit together while you do a few things around the house. Set a timer, so the expectation is determined ahead of time.
Even if you use the respite time for a mundane chore or an activity you used to take for granted, it can help reduce your stress. Get your nails done, go grocery shopping alone, go to the gym, have your mammogram, or get routine blood work your doctor ordered. Do the things that you need to do. It will help your life feel more normal.
So think about the family members you'd like to reach out to—and remember the offers of help you've had from other folks. It's time to let them know how they can make a difference.
Get more tips about caregiving!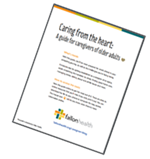 Fallon Health has prepared a downloadable guide with practical information to help you with the challenges of caregiving.
Get the free guide when you subscribe to the Caregiver Connection ►
Add your comment