About the Caregiver Connection
Posted 30 March 2017 by Fallon Health
Posted in
Maybe you became a caregiver after a sudden change in your loved one's health. Or maybe it happened a little at a time, because of a decline in health or an increase in cognitive issues.
Either way, it's a demanding role. Nearly 9 out of 10 caregivers find that caregiving requires more emotional strength, patience and time than they expected.1
The Caregiver Connection provides a place you can find information and support, and hear from health care professionals and other caregivers on a wide range of topics that may affect you or your loved one.
Remember, even if you'd rather manage the situation on your own, there are limits to what a family caregiver can do. Understanding your limits and knowing when to ask for help is important. Being open to support—whether from friends, family, care workers, health care professionals, or resources in the Caregiver Connection—can help you continue to care for your loved one over the long term.
1 Susan C. Reinhard, Lynn Friss Feinberg, Rita Choula, and Ari Houser. AARP Public Policy Institute. (2015). Valuing the Invaluable: 2015 Update Undeniable Progress, but Big Gaps Remain, 1. Retrieved from http://www.aarp.org/ppi/info-2015/valuing-the-invaluable-2015-update.html
Get more tips about caregiving!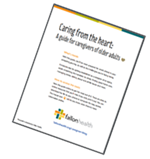 Fallon Health has prepared a downloadable guide with practical information to help you with the challenges of caregiving.
Get the free guide when you subscribe to the Caregiver Connection ►