5 ways to prevent falls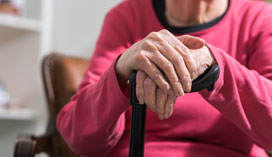 Posted 22 September 2020 by Fallon Health
A fall can happen to anyone, regardless of how young or old, how fit or out of shape. But falling becomes a greater risk with age. One in four people aged 65 and older fall each year.1 Having one fall doubles the chances of having another. And of course, any fall can cause serious injury, which in turn can result in loss of independence.
How to reduce the chance of falls
It's possible to reduce the risk of your loved one falling by paying attention to changes in health and mobility. Here are some tips from the National Council on Aging's falls prevention program:
Find a good balance and exercise program. The Massachusetts Councils on Aging can direct you to one in Massachusetts. Or check with the National Council on Aging for falls prevention programs in other states.


Talk to your loved one's health care provider, and arrange for an assessment of your loved one's risk of falling.


Make sure medication side effects aren't increasing fall risk. Have medications reviewed by your loved one's doctor or pharmacist.


Have your loved one's vision and hearing checked annually.


Keep your loved one's home environment safe. Remove tripping hazards, increase lighting, check stairs and install grab bars.
Addressing those five issues can help increase your loved one's confidence. The fear of falling often leads older people to limit their activity, which decreases their strength and increases the likelihood of falling. That's why it's vital to encourage your loved one to stay as active as possible and to be proactive in managing health issues as they arise.
How health affects falls
Health issues—and medical treatments for them—can cause falls indirectly. Here are some issues to be aware of:
An undiagnosed health problem may cause dizziness. So can prescription medication for prostate issues, blood pressure, depression and other conditions. Consulting your loved one's primary care provider is important in this case.


It's essential to maintain good bone strength by getting enough vitamin D and calcium.


Get calluses, corns or sores checked to avoid foot discomfort that can lead to unsteadiness.


Standing up quickly can cause dizziness or lightheadedness. Encourage your loved one to get up slowly.


If getting out of bed is a problem, a bed transfer handle (a u-shaped bar between the mattress and boxspring) can make it easier.


Dehydration can cause dizziness, but it has a simple solution—make sure your loved one is drinking enough water.
If your loved one spends a lot of time alone, it may make sense to use a wearable alarm device that calls for help in the case of a fall. Organize family or friends to check on your loved one regularly, by phone or in person.
It's important to continually assess your loved one's ability to manage at home and make changes to improve safety.
1 "Important Facts about Falls." Centers for Disease Control and Prevention, 10 Feb. 2017. Web. 26 July 2017.
Sheila Despres is a physical therapist and Site Director for the Leominster, Mass., location of Fallon Health's Summit ElderCare program, which is a Program of All-Inclusive Care for the Elderly (PACE). Summit ElderCare provides medical care, insurance coverage, home assistance, adult day health services, and social support to adults age 55+ so that they can remain living in their homes.


Get more tips
Subscribe to the Caregiver Connection and get a free toolkit for caregivers.



Take the next step
Our customized care programs focus on keeping older adults at home while also supporting you, the caregiver.


Add your comment