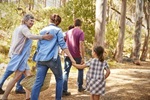 Posted 28 June 2020 by Fallon Health
Try these 6 tips for managing care for older and younger loved ones simultaneously during the coronavirus pandemic, while also maintaining your own physical and mental well-being.
Comments (0)
Read more...
Posted 26 June 2017 by Fallon Health
There are many reasons your family and friends may not be providing the help you need. Focus instead on these three ways to ask for help more effectively.
Comments (0)
Read more...