10 signs that it may be time to stop driving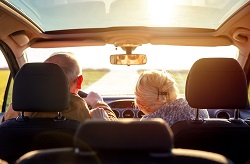 Posted 11 November 2019 by Fallon Health
First of two parts about driving as we age.
Is advancing age a reason to stop driving? Not necessarily. Getting older is "not the sole predictor of driving ability and safety," according to the National Highway Traffic Safety Administration (NHTSA).
Many people can continue to drive safely into their later years, but NHTSA does note that the physical and mental changes that happen with age can have a negative effect on driving skills. These changes could raise the risk of a crash.
Is your loved one at risk?
It's not always easy to determine whether your loved one is still able to drive safely. After all, they're not likely to tell you they're having issues, especially if they think they'll have to give up the independence of driving. They may even try to hide any problems they're having.
You can get a firsthand sense of how they're doing by going for a drive with them. Try to make it a regular practice, if possible, so you can stay aware of any changes. If you aren't able to go with them yourself, ask friends or relatives what they've observed.
Questions to ask
The NHTSA has developed a list of questions you can use to help determine whether it's time for you to talk with your loved one about driving. Can you answer yes to any of these questions?
Are there new dents or scratches on their car?



Have they had a near-miss or a crash recently?



Do they speed or drive too slowly for no reason?



Have they gotten a ticket for a moving violation?



Have they received a ticket for impaired driving?



Are they getting lost on familiar routes?



Do they get overwhelmed by road signs and lane markings while they're driving?



Could their medications affect their ability to drive safely?



Do they have an illness or medical condition that could affect driving skills?



Has a health care provider advised them to limit or stop driving because of health issues?
Get a professional opinion
If you notice any of these issues, you may want to suggest a trip to the doctor. There may underlying health reasons for the changes in driving ability. Addressing them may make driving safer for your loved one, maybe without any intervention on your part.
In addition, or as an alternative, you could suggest a driving assessment. In Massachusetts, there are driving skills assessment programs available. These programs provide objective evaluation of vision and spatial awareness, as well as of physical and mental reaction time.
Your loved one will leave with recommendations and know whether a refresher course or adaptive equipment could help them continue driving safely.
Laura Roias, LICSW, is Manager of Behavioral Health for Fallon Health's NaviCare program. In her second post, she shares ideas to help you get ready for a conversation with your loved one about driving.
Get more tips
Subscribe to the Caregiver Connection and get a free toolkit for caregivers.



Take the next step
Our customized care programs focus on keeping older adults at home while also supporting you, the caregiver.


Add your comment