Preparing for holidays when you're a caregiver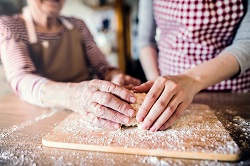 Posted 22 October 2018 by Fallon Health
Holidays—whichever you celebrate—can be wonderful occasions. Whether small or large, gatherings of friends and family may include traditions that go back generations or that you're just starting.
Yet, holidays can put pressure on all of us to be happy and festive, even though we may not feel that way. Celebrations and the preparations leading up to them can be difficult when someone close to you is struggling with serious health issues.
If you're a caregiver and already feeling like you're operating at or over your maximum capacity, you may want to think ahead about what you can reasonably do during the holidays this year. Doing the usual shopping, decorating, cooking and socializing may be too much, and could make you feel anxious, resentful, angry or sad.
There are things you can do to lessen your holiday burden. Try some of these ideas to help you manage—and even thrive—during this holiday season:
Plan ahead
Don't wait until the last minute to make decisions. Before the holidays are fully underway, decide what decorations to hang, who you'll shop for, what and how much to cook, what gatherings you'll host or attend. It's easier to make these choices early, before everyone around you is pressed for time, harried and full of expectation.


Think about safety
If you're hosting, take a look at your home with your loved one in mind. Remove unnecessary items that could be tripping hazards, such as cords or loose rugs. Make sure there's an unobstructed path to the bathroom and adequate lighting. If your loved one is traveling to your home, think about the easiest path for them to get from a car into the house. And make sure it's clear of snow and ice.


Include everyone
Even if your loved one is dealing with physical or cognitive limitations, try to make him or her feel like an essential part of holiday preparations and celebrations. Encourage your loved one to share stories of the past or take on smaller, manageable tasks to prepare for the holiday.


Take care of yourself
Try to get plenty of sleep. And don't lose sight of healthy eating and drinking habits. Accept help and shift your expectations if needed. If you're feeling depressed, contact your primary care provider.


Avoid the compare and despair trap
This year, your holiday celebration may not look like years past, but try not to compare it unfavorably to other years. Accept that change can be hard and is often accompanied by some sadness. This is normal. Honor the emotion and embrace the opportunity to spend time with your loved ones and to celebrate in each other's presence.


Prioritize and modify
Talk with family members and decide on a few things that are most important. Make changes to traditions that are hard to keep up with right now—or leave them aside temporarily.



If it's too difficult for your loved one to travel, have a smaller celebration where he or she lives.


Buy pies for Thanksgiving, instead of making them.


Cut back on the number of people you buy gifts for—or reduce your shopping trips by getting gift cards or ordering online. Have someone help you with wrapping.


If you usually bake 12 kinds of Christmas cookies, cut back to two or three. Or skip baking and order from a bakery instead.


If you normally go out for New Year's Eve, but can't leave your loved one alone, consider having a few people over for dinner and watching movies or playing games that your loved one can participate in or enjoy observing.



Present change in a positive way
If preparing a traditional family meal is something your loved one enjoyed but can no longer realistically do, you could suggest writing down the recipes for everything you usually have and sending them to guests to prepare. That's a way of handing down traditions to the next generations while giving your loved one a chance to continue to be involved and feel a sense of control.
Most importantly, let go of expectations—and encourage others to do the same. Try to stay in the moment and be realistic. Although asking for help can be difficult, it's so important during the holidays, when people have longer lists of tasks and a short period of time to get them done. Working together on a new way to celebrate can make the holiday season more manageable and enjoyable for all, even under changing circumstances.
Laura Roias, LICSW, is Manager of Behavioral Health for Fallon Health's NaviCare program.
Get more tips
Subscribe to the Caregiver Connection and get a free guide for caregivers.



Take the next step
Our customized care programs focus on keeping older adults at home while also supporting you, the caregiver.


Add your comment