Training helps caregivers develop skills for the job of caregiving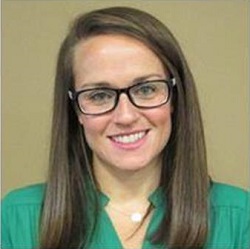 Posted 06 March 2018 by Fallon Health
By Crystal Polizzotti, guest contributor
Parent, spouse, relative and friend are terms that explain relationships between people. The word "caregiver," however, describes something you do for someone else.
That makes it a job. It may be a job you wanted or expected to do. Or perhaps it's one you accepted reluctantly. But even in the best of circumstances, the job of caregiver is one you need to learn how to do—and it requires resources and training.
Why caregivers need training
The lack of formal training is one of the biggest challenges of caregiving. Many aspects of being a caregiver could be listed in a job description. If you had the means to hire people to complete the tasks caregiving entails, you would want them to be experienced professionals with the training to be effective in their roles of:
Personal care attendant to assist with activities of daily living for the person you're caring for
Accountant to manage finances
Nurse to administer medications
Activity director to plan out the day for the person you're caring for
Care manager to arrange medical appointments
Household manager to clean the house and keep everything running smoothly
Maybe you do have professionals in some of these roles, but in most cases, those jobs are taken on by family caregivers who haven't had training that would help them be successful.
Reach out for the caregiver resources and education you need
Fortunately, there are resources available that can help you gain some of the skills and coping techniques that caregivers need. You can find free, evidence-based training programs through the Healthy Living Center of Excellence, which lists resources across Massachusetts.
One of these is the Savvy Caregiver program. If you're actively caring for a friend or family member who is living with Alzheimer's disease or related dementias, the Savvy Caregiver program is informative and interactive. During the six week session, you'll meet once a week for two hours. And you'll learn, develop and modify your strategy for caregiving. The goal is to increase your caregiver knowledge, skills, self-efficacy and well-being.
If you're helping with the care of an older adult with a long-term health condition, Powerful Tools for Caregivers is a program that can help with issues ranging from caregiver stress to improving communication to making difficult caregiving decisions. This six-week program, which meets for two hours each week, is designed to help whether the person you're caring for lives at home, in a nursing home or across the country.
Caregivers who participate in the Powerful Tools for Caregivers program report that they:
Get better at caring for themselves
Feel less anger, guilt and depression
Have increased confidence
Have greater ability to cope with the demands of caregiving
Are more likely to use community services
In Massachusetts, you can find other local programs by reaching out to your local Council on Aging.
Take care of yourself to be a better caregiver
Part of learning how to be a caregiver is knowing when and how to make time for yourself. Caregiving is a generous and loving act, but it can also be demanding. Burden and burnout are serious problems that can develop when caregivers forget to attend to their own needs.
Caregivers often express that they do not take time for themselves, because finding free time is nearly impossible. Others say they feel trapped at times and have no one to rely on but themselves. Regardless of age, sex or race, caregivers typically report sleep deprivation, poor eating habits, postponement of appointments for themselves and lack of exercise and rest. Caregivers also say they feel guilt or sadness if and when they do take time for themselves.
Use strategies for avoiding caregiver burnout
When caregivers are flooded with these kinds of emotions and feeling overwhelmed, their risk of caregiver burnout increases. That's why having strategies for dealing with these feelings is essential to successful caregiving.
Reaching out to others for support is a vital step. As you successfully involve family members or friends in caregiving, you may be able to carve out some time for your own personal needs.
Self-care should not be viewed as a luxury but as an essential component to your job as a caregiver. Allowing time for yourself enables you to feel reenergized, calm, centered and connected with friends and family. Here are a few suggestions:
Take a 15-minute break
Catch up on sleep
Have fun with friends
Learn a new skill or return to a former hobby
Take a 24-hour respite
And most importantly, give yourself credit for doing the best you can do in one of the toughest jobs there is!
Crystal Polizzotti is Caregiver Coordinator for the Healthy Living Center of Excellence at Elder Services of the Merrimack Valley in Lawrence, Massachusetts. For more information, email Crystal Polizzotti, or call her at 1-978-651-3034.
Learn more about health care and insurance options for older adults available from Fallon Health.
Get more tips about caregiving!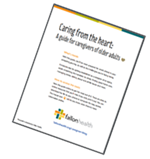 Fallon Health has prepared a downloadable guide with practical information to help you with the challenges of caregiving.
Get the free guide when you subscribe to the Caregiver Connection ►
Add your comment